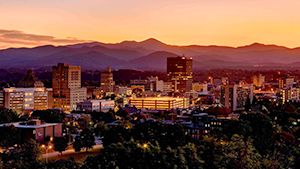 Stop No. 1 | Spend two nights at the Aloft Hotel in Asheville
This stop unlocked by @balbert86.
You won't go hungry in Asheville — runner-up in Livability.com's 2014 Top 10 Foodie Cities contest — or run out of things to do. Its breathtaking Blue Ridge Mountain setting is perfect for hiking outside of town and downtown, where you'll find unique shops such as the Antique Tobacco Barn. Its 77,000-square-feet of treasures are perennially voted the region's best.
Prize courtesy of the Aloft Asheville Downtown.